10 Tips to choose builders in Kochi
Creating a dream home is one of the most rewarding experiences in one's life and more often than not the choice of builders in Kochi is a major decision impacting the quality of the end product.
Several things can go wrong during the course of the construction, but one careful decision in the start of the project can help avoid most of the hiccups.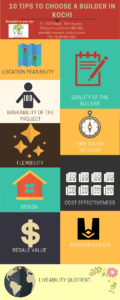 Here we look at a few evaluation parameters that will help choose builders in Kochi, whose approach to the project resonates with your vision of dream home.
These tips would come in handy either when you opt for a pre-constructed villa or apartment or when you have already conceived the building and would need professional help just for the design and execution.
Top 10 tips to evaluate builders in Kochi
When it comes to a real estate investment, the choice of location is THE most important influencing parameter. Always look for options closer to your family's place of activity. 
Evaluate the projects already completed by the builder. This is very important as it goes a long way in determining the quality offered by the builder.
Check if the builder has a history of on time delivery of projects committed. This tells a lot about the builder's capabilities on project management and risk assessments.
Perform legal checks to ensure that the project is bankable. This is to make sure that you are not put in a legal tangle on ownership issues later.
The builder should provide you enough flexibility in terms of the design, interiors etc.
The property should be cost effective. It should give you reasonable returns even if you wish to exit the property in a few years' time.
The builder should offer an optimum design – both in terms of exterior, which is the elevation and the interiors.
It is always ideal to have the same builder do the interior design also, as it helps aid the already conceived building design. Planning the interiors upfront helps reduce costs too.
The builder should offer projects that rank high in liveability quotient, as ultimately what matters is the comfort of the residents.
The builder should be capable of providing other optional value added services. Some examples are installation of security cameras, solar panels, energy saving systems, mosquito nets etc
Related Reading:  evaluation guide for construction companies in Kerala.