Construction Services in Kerala: Viya Constructions
Viya Constructions is one of the leading companies providing construction services in Kochi, Kerala. Our aim is to deliver excellent quality buildings to suit our patron's construction needs in Kerala.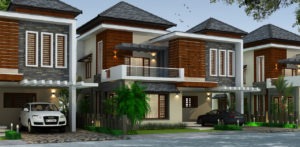 Headquartered in Kochi, Kerala, Viya Constructions is into construction of Independent houses, Villa Projects, Commercial Buildings, Offices,  Holiday Homes and Property Development.
The Interior Design Department takes care of the interior Design aspects in all its projects.  Furthermore, we also do the interiors for other, already constructed properties.

Our Expertise in Construction Services in Kerala
The following are the areas in which we offer our services.
Property Development, including land development, road laying etc.
Piling Work, Basement construction
Civil Building Construction – End to End
Carpentry, Electrical , Plumbing, Tiling and Painting
Other Finishing Works
Interior Design and Execution
Installation of allied products
Landscape design and Gardening.
Know more about Viya's turnkey construction services.

The Approach that make us one of the best construction companies in Kerala
We offer construction quality at its best making use of the following pillars:
Design focus – We have an in house Architect who would be involved right from the design phase till the completion of construction.
Careful selection of Materials used – Our Purchasing Department has several years of experience in this field and know exactly where to go for high quality, on-demand products.
Expertise in labour involved in each function – Our Construction Engineering team comes with experience working with several Construction companies in Kerala and outside.
Relentless pursuit of excellence in execution
Process oriented approach: We plan for the end product well in advance, taking into consideration several factors that may affect the progress of construction. This includes factors affecting materials, labour, weather conditions and the like.
Project Management with focus on Quality, Cost and Timelines
Independent Quality team – We have quality checks being performed at each stage of construction, thereby ensuring the end product turns out to be your dream nest.
We do our bit to the environment by promoting energy efficient and eco-friendly constructions.
We believe that taking care of a few important aspects during construction can go a long way in heat reduction in buildings in Kerala.
Detailed Reading: How to evaluate construction companies
Our Team
The Viya team comprises inhouse Architects and highly experienced Civil Engineers and Quality Management professionals from top class Engineering and Management institutes in the country.
Click to know more about Our Team that provide construction services in Kochi and other parts of Kerala.