Home library design : Cool ideas
A house that has a library in it has a soul ~ Plato.
A home library is a must have in every residence. Put some thought into it during your building design, and rest assured your family leisure time is taken care of. Here are some ideas to set up your home library.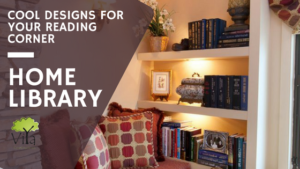 1. An independent library
For those who can afford to have a library room in itself, there's nothing like it. A window opening into the garden and a ledge doubling as a seat can serve as a cosy alcove for the solitary reader. A cup of warm tea and nature's bountiful monsoon can brighten up the moods of anyone in the family.
You can also use the space beneath the ledge  for putting away old books and papers.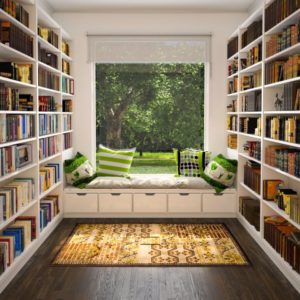 Image Source: Boca do Lobo
2. Under the Staircase
The space under the staircase is often left underutilized.  If you plan well, you can transform this space into a beautiful home library design. A potted plant by the side coupled with an armchair is sure to pique your reading interests.
3. Wall library
This is the easiest and most effective home library design. Any wall can be converted into a library. Furthermore, using the staircase wall has an added advantage that your books are easily accessible.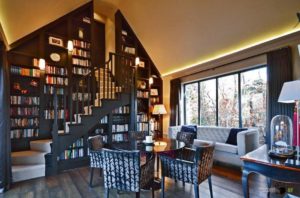 Image Source: privyhomes.com
4. Fancy design for kids
Kids love stories. And there is no better time to instill the habit of reading in them than childhood. A kids' library should be interesting and inviting. Make sure you make it colourful and easily accessible for the child. Also ensure that you arrange the books in an age appropriate fashion and in the order of interest. In addition, the library should always have adequate lighting and ventilation.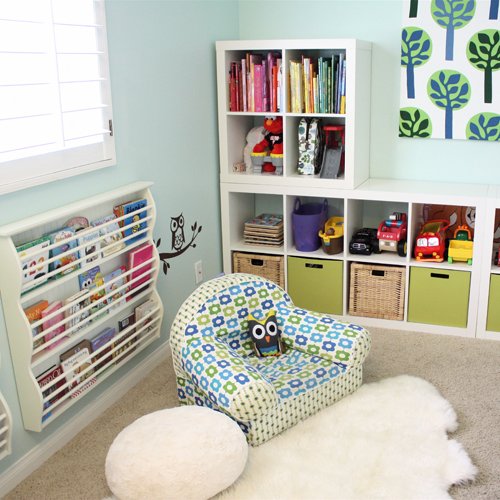 Image Source: popsugar.com

5. Bedroom Nook
You can easily transform a corner of your bedroom or any room for that matter into a reading nook. A bedtime reader can use the headboards for storing books. A wall shelf can also be used for the voracious reader. A bed side lamp would mean minimal disturbance to your roommate.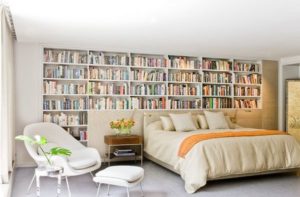 Image Source: homedit.com
6. Reading Corner
Reading corners can be created even in the smallest of homes. Choose a corner of your home where you can get some peace and quiet. All you now need are a couple of shelves, a window ledge or an arm chair and if possible a foot rest. Furthermore a window overlooking the garden is a added advantage.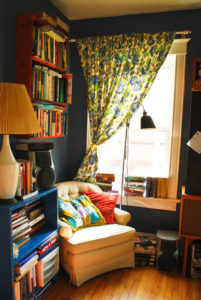 Image Source: livediyideas.com
Reading is a habit and a hobby that would never cease to excite you. Investing in this hobby will certainly not be a wasted effort.
Check out these other design tips as well