Things to know before fixing wallpapers
Wallpapers are the perfect solution to decorate and beautify your walls when it comes to interior designing.  This guide will walk you through the step by step process of fixing wallpapers. To understand this, let us first see in detail the types of Wall Papers.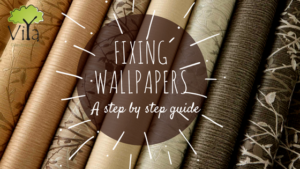 Types of WallPapers used in construction
Over the years, wallpapers have evolved from mere lining paper to cover uneven surfaces to much advanced digital printed ones which leaves a personal statement on the walls.
Vinyl Wall papers provide a wide range of colours and designs and at the same time is highly durable. The design is printed on the backing layer and is then applied with a plastic (poly vinyl) top coating. Vinyl Wall Papers come in four types based on the backing layers viz, solid vinyl, vinyl coated, paper backed vinyl and fabric backed vinyl. Vinyl wallpapers are one of the most opted wall papers because of its easiness in installation and ability to withstand wear and tear. It is easily washable and ideal for high traffic rooms like kids' rooms and hallways.
Solid vinyl wallpapers are made of pure vinyl sheets. They are highly durable and resistant to moisture and humidity making it ideal for bathrooms and kitchen. It is easy to clean and maintain, but installation and removal needs expert care.
Vinyl coated wallpapers are standard paper wall paper coated with a protective layer of acrylic vinyl. This is easily washable and scrubbable and resistant to heat and grease making it ideal for kitchen, bathrooms, family rooms and hallways. Installation is easy and smoothly strippable as well.
Paper backed vinyl wallpapers consist of paper backing laminated to a solid sheet of vinyl. This is ideal for all interior walls where moisture content is very low. If not, the paper and vinyl will delaminate over time.This will call for frequent replacement.
Fabric backed vinyl wallpapers is made of a layer of woven fabric laminated with a sheet of vinyl. This is ideal to cover up surface imperfections and is highly durable and easy to clean. This is ideal for high traffic areas. It finds most common application in commercial setups including hospitals.
Non Woven wallpapers are ecofriendly and the upcoming trend in wall decor. They are made of a blend of natural and synthetic fibre and mixed with paper pulp and acrylic. It is user friendly and breathable making it suitable for green buildings. These are ideal for bed rooms and kids rooms. Such wall papers neither expands nor contracts and are tear proof, making it easy to install and remove. Non woven wall papers are quite expensive and has an uneven texture. The free joints needs to be worked on with care to make it appear seamless.
Digital printing wallpapers have paved the way for giving the exact look and feel for the room walls using custom designs. Inkjet printing technologies with UV cured inks are used to print custom wall papers of photographs and artworks on to blank wall paper material. The greatest advantage of digital printing wall papers is that, it enables to print small surface areas, including even a single wall.
Metallic finish wallpapers are created by applying a thin layer of metallic foil to a paper backing. To give a contemporary feel, work up textures on the foil using pigmented dyes. Screen printing of patterns is another option. These wall papers give a unique and striking feel to any room. This is because the patterns and unique and you never get to repeat a design.
Apart from the type of wall paper, there are a few more important aspects that will ease the process of fixing wallpaper.
Factors to consider while fixing wallpapers
Surface of walls
It is very important to prepare the wall surface well before fixing the wall paper. The first step is to work on wall cracks with putty. Then level any irregularities on the surface evenly with a sand paper. Check for any dampness and remove the cause of it, so that wallpaper sticks on well to the wall. Clean and dry the entire surface before fixing wall paper.  Insulate all electric connections on the walls to avoid electrocution.
Avoid Air Bubbles
Having small air bubbles inside the wallpaper will make the wall look ugly. Booking the wallpaper for five minutes will remove the possibility of trapping air bubbles. Be handy with a wallpaper sweep. This is to ensure that air bubbles are not trapped while fixing the wall paper.
Wall paper design should match the room interior
The room interior and the wall paper has to match to create the perfect ambience for the room. Ensure that the colours and patterns on the wall paper enhances the beauty and usability of the room.
Type of Wall Paper
Deciding on what type of wallpaper will go well for each room is very critical. Vinyl wallpapers are best for kitchens and bathrooms as they are highly durable and available in attractive designs. Non woven wall papers are ideal for bed rooms, kids room and hallways for their breathability.
That was all about the important things to know before fixing wallpapers. Now comes the real stuff, pasting the papers on the wall!
Step by step procedure for fixing wallpapers
Firstly, find out how much wall paper roll you need. Always buy a few metres more than the actual area of the room.  To make the wallpaper pasting process hassle free, follow the following steps:
Mark the starting point on the wall – From the ceiling measure down the wall paper length and mark two inches right above that with a pencil. Draw a vertical line from that point to the ceiling. Pasting wallpaper will start along this line, next to the doorway.
Prepare the wall paper – With scissors, cut along the wallpaper to get a length 4 inches longer than the height of the wall. Apply wallpaper paste to the back of the paper.
Paste the wallpaper – Stick the wall paper along the marked vertical line beginning at the ceiling. Leave 2 inches at the ceiling and 2 inches below the floor. Gently press the wallpaper on to the wall to stick it perfectly. Use a wallpaper brush to flatten the paper smoothly from top to bottom, to eliminate wrinkles and air bubbles.
Finally, match pattern and stick the rest – Take the next piece and align it to the first piece matching the pattern. Trim off the excess on top and bottom with a razor. Furthermore, rolling a seam roller along the joints will ensure that the paper won't peel off easily. After you set the paper, use a wet sponge to wipe off excess glue in the seams.
Continue this with the rest of the room and cover all the desired walls with wall paper.
Tips before fixing wallpapers
 Here are a few tips to help you get things right in the first go, while fixing wallpapers.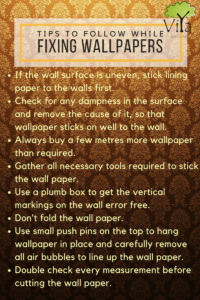 If the wall surface is uneven, stick lining paper to the walls before you go ahead with wall paper pasting.
Gather all necessary tools required to stick the wall paper. Tools like measuring tape, carpenters level, pencil, scissors, seam roller, stiff bristled nylon brush, sponge, a bucket of water, putty knife, utility knife and razor blades should be handy. A work bench to cut the wall paper and pasting the adhesive will be very useful in the process.
Ensure that you sharpen all tools beforehand. This is to make sure that you save time and can do the pasting without any unwanted delay.
Use plastic instead of newspaper on the work bench to avoid the possibility of newsprint stain on both table and wall paper.
Use plumb box to get the vertical markings on the wall error free.
Don't fold the wall paper.
Use small push pins on the top to hang wallpaper in place and carefully remove all air bubbles to line up the wall paper perfectly.
Double checking every measurement before cutting the wall paper will ensure that you finish the work in fastest possible time.
Fixing wallpapers on to bare walls is indeed a big task. You can always hire professional help to make the wallpaper look perfect on your walls. Get in touch with Viya for a professional consultation on fixing wallpapers for your home.