Holiday Homes in Kerala – 4 off beat locations to choose the perfect ones from.
Holiday homes in Kerala are a perfect investment option, let's see why.
Kerala has been selected by National Geographic Traveller Magazine as one of the 13 paradises on earth. Kerala offers something for any type of traveller. Lush green forests, tranquil sandy beaches, scenic backwaters, palm fringed canals, paddy fields lined with coconut trees, vibrant cities Kerala has everything that would satisfy your wanderlust.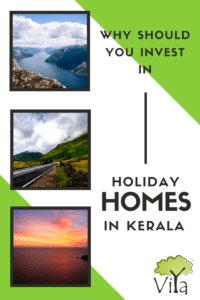 Kerala has a high rate of tourist influx around the year. Kerala is a popular holiday destination because
It is the Land of Ayurveda/Spices
It has one of the most beautiful backwaters in the world
Rich cultural heritage/festivals
Unique cuisines
Countless sunny beaches
Moderate climate round the year
Easy to communicate in English
Investing in holiday homes in Kerala makes a perfect sense due to these factors. Apart from pride of ownership, holiday homes bring long term financial benefits. Majority of the holiday homes in Kerala are constructed in and around popular hill stations, water fronts, and beaches which are overcrowded and expensive.
Viya has some exotic holiday properties set at idyllic locations in Kerala. Viya's waterfront properties and beachfront properties at beautiful but offbeat locations would charm any traveller. Seasoned tourists would prefer to explore these unexplored places in Kerala. Direct access to backwaters or beaches, modern comforts & a soothing ambience along with proximity to the towns would appeal any holiday goer.
Holiday Homes at offbeat locations in Kerala
The way people travel has undergone a sea change. In current times, people from all sections and age groups are going on holiday trips. There exists an opportunity to make handsome profit out of your assets by doing let outs.
However already developed properties in and around the major tourist places comes with a heavy price tag. It would be ideal to choose unexplored but unique places which would be less costly but would make an attractive investment in the future. Viya's holiday homes in Kerala are easily accessible from major towns with less than 1 hour of travel. Our beachfront and lakefront holiday homes are a dream come true for holiday lovers.
In contrast to a confined hotel room, a holiday home can be designed to offer a unique and comfortable space which includes an equipped kitchen, living and dining rooms, and outdoor areas like balconies and patios. Apart from the usual amenities like Wi-Fi and televisions, appliances like washing machines and dishwashers, private pools, entertainment systems, cinema rooms and private parking can also be provided. Client is at his liberty to choose the designs.
Related Reading: Why should you invest in a Holiday Home in Kerala?
These are some of Viya's exquisite holiday properties at beautiful locations.
Viya Dock House Kochi consists of 6 luxury villas built over a sprawling 1 acre property. Dock house lies on the banks of Lake Vembanad which is just 15 Km from Kochi, and a 45 minute boat ride from Marine Drive.
Set in a premium waterfront location, each house has an independent boat jetty access.From each villa you will get a breathtaking view of the lake, spread out in all its glory. Vembanad Lake is popular for houseboat cruise, fishing, and bird watching.
A holiday home at Viya Dock House Kochi is an excellent investment opportunity, which you can take advantage of for yourself, or to let out.
Viya Green bank consists of premium waterfront plots of 10-15 cents each. This property lies right on the banks of Vembanadu Lake at Mekkara. The site is located just 10 Kilometers from Poothotta that borders Ernakulam district.
The lake is known for offering memorable sunrise and sunset views and thus is visited by a huge number of tourists. A cruise through the lake is replete with cool breeze and lush views. This is a great place to enjoy the serene beauty of the lake, and a holiday home in this location is sure to have many takers.
Beach Beckons! Leave the hustle and bustle of the city behind! Thykkal is the place you should be heading if you love to hear the sound of waves and sand right outside your doorway.
Not far from Cherthala town this beautiful fishing hamlet is an ideal place for your holiday home. Viya offers beachfront villas on Thykkal beach in a residential area. These Villas offer breathtaking beach views with direct beach access. It is only half an hour's drive from Kochi.
Viya Lake View, Kottayam
There are several river / backwater front properties around Kochi that are ideal for holiday homes. Waterfront plots of 20 cents each are available on the shores of River Vembanad. Plots are ideal for villas or holiday homes. Viya Lake View is just 5 kilometers from Vaikom town. It is just at a stone throw away from the magnificent Lake of Vembanad.It is an ideal place to rewind and enjoy peace, tranquility and sunshine.
If you have been thinking of splashing out on a holiday home in Kerala, think of us at Viya Constructions! We would be glad to assist you in every step of the way.