Home Construction in Kerala : 5 flooring tips
Building construction in Kerala is experiencing a rapid growth rate of 7-8% per annum, due to the population increase, easy availability of finances and lifestyle changes of its people.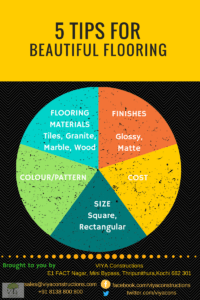 Construction scenario in Kerala is a good mix of thoughtfully planned commercial buildings, hi tech office spaces, malls, beautifully planned residential layouts, sophisticated IT malls, individual bungalows, comprehensive villa projects and houses.
A wise selection of building materials is required considering the climatic conditions and high humidity levels prevailing in Kerala.
Furthermore aesthetics is an important part of any building design. The aesthetic feelings we get when we enter a building depend on the finish given to the floors and walls.
Floors add to the charm and beauty of your living space. It is important to invest in good quality floors which will be in sync with your daily life while simultaneously elevating your moods and infusing a touch of class and modernity. Hence flooring needs to be given a lot of importance in home construction.
A number of flooring designs and patterns are available to choose from which can be overwhelming.
Flooring Materials Options
In a nutshell the commonly used flooring materials in Kerala constructions are:
Ceramic Tiles
Vitrified Tiles
Polished Vitrified Tiles
Glazed Vitrified Tiles
Granite
Italian Marble &
Wood
Now let's look at each one in detail.
Ceramic Tiles are made of clay, minerals and water. These tiles are then fired and glazed because the ceramic is porous. When coated with a glaze of grade III or higher, they become extremely resistant to scratching. They have a natural and earthy look in comparison to the artificial look of vitrified tiles. Ceramic tiles are less expensive than vitrified tiles and they are available in various patterns, shapes and sizes.
Vitrified Tile flooring is an alternative to marble and granite flooring. It gives a glossy look to the floor and is used widely all over the world as flooring tiles. Vitrified tiles, as a rule, are those that are specially engineered to resist water. This property is brought into normal ceramic tiles by using the dust compression method that makes them harder, stronger, denser and less porous.
Polished Vitrified tiles create a smooth surface. Therefore, they are often used for flooring in bedrooms and drawing rooms.
Glazed Vitrified Tiles are those which have a surface coating of glaze on them. This 'glaze' makes the tile look shiny. Pictures and patterns can also be digitally printed. They are used in bathrooms and kitchen walls.
Granite
is a natural stone. When choosing counter-tops for your kitchen or bathroom, granite and marble surfaces are popular choices. Granite is more durable than marble and less prone to stains and scratching.
Italian Marble is a wonderful material that can quite simply enhance the beauty and elegance of any room. It is considered the material of choice for the elite. Even after 20 years if you get your marble floor re-polished, you will get a brand new flooring surface. Hence there is no recurring expense with Italian marble.
Wood is a preferred flooring material option these days. Wood, Laterite, Terracotta and Granite played an important role in the traditional home construction in Kerala. Nothing can replace the charm and beauty of floors made out of wood. It is highly durable and more eco-friendly than synthetic materials. Though the technology is old, wooden flooring in selected areas will create a special charm and elegance to any modern house or apartment.
Related Reading: A complete guide to tiling finishes

Now that we have seen the types of flooring materials, let us look at other aspects that directly impact the beauty of your floors.
Flooring Finishes
Popular finishes available are Glossy, Matte, Rustic, Satin Matte, Lapato, Sugar etc. Glossy tiles are shiny and reflective. They are made by polishing the surface with an abrasive wheel until it shines. Glossy tiles are ideal for use in smaller rooms, as their beautiful silken finish will bounce light around the room. Their slippery nature makes them ideal for use on bathroom walls, or as kitchen splash backs, as they are wipe-clean. This does, of course, mean that they're not suitable as floor tiles in high-traffic areas.
Matte tiles have a dull surface that does not reflect any light. Therefore they are an obvious choice for anyone creating a traditional or rustic look within their home. Outdoor areas should be paved with matte tiles due to their durability and slip resistance. They can stand up to weathering.
Satin Matte, Lapato and Sugar are the new trends in tile finishing. They are non slippery and have the characteristics of both Glossy and Matte finishes.

Size of floor tiles
Tiles are available in many sizes and it is entirely the buyers' choice to finalize a size as per one's budget and tastes. The most commonly used sizes are 600 mm X 600 mm tiles. However, rectangular shaped tiles are also available in the market. In general, tile size and shape can be chosen depending on the area and shape of the floor.
Colour/Pattern
Tiles are available in many colours, mostly in light colours as people prefer to choose light colours to make the rooms look bigger and shining. Mind boggling range of colours and patterns are available in vitrified tiles. With the innovation in R&D and advancement in technology, it is now possible to bring granite, marble and wood finish into vitrified tiles.
Cost
The average rate of ceramic tiles starts from Rs 30 per sq.ft. Whereas, for polished vitrified tiles, the price is around Rs 75 per sq.ft. Granite, Wood, Italian Marble on the higher end starts from Rs 150, Rs 250 and Rs 275 per sq.ft respectively.
So, when it comes to home construction in Kerala, a myriad of options are available to the customers.  It is the budget, creativity and requirements of the home owner and family that finalize the selection of flooring materials. With the availability of high tech building materials, home construction in Kerala is expected to make a quantum leap in the coming years.
We at Viya Constructions assist you in choosing the best flooring  options for your home
The Interior Design team at Viya helps you to pick out the best flooring options for your home. Our team assists you to visualize the look, colour and style of the flooring which will maintain the flow and integrity of the house using advanced 3D room visualization software.
The experts in our team will help you to compare the pros, cons, care and cost of popular types of flooring options. Our team would also help you to achieve the home of your dreams in a hassle free manner, making the whole experience from plans to taking possession an extremely enjoyable one.
Call us now for your dream home construction in Kerala.
You may be interested in these as well