House Construction in Kerala: What you ought to know about Electrical Wiring
House construction in Kerala is experiencing a growth rate of 7-8%. Construction costs in Kerala escalate at 8-10 % per annum. In order to improve longevity of a house, the materials used for building services should have a life span matching the life of the structure.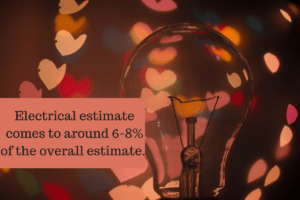 Civil/Structural and Electrical expenses form the major chunk of expenditures involved in a house construction. Electrical estimate comes around 6-8% of the overall estimate. It is absolutely essential for any house buyer to have a thorough idea about the quality and quantity of electrical items before the start of the work. Let us look at some of the key parameters involved in building the electrical system in a house construction.
Electrical Design and Implementation:
Layout
Electrical layout drawing is the blueprint of the electrical system of a house. In order to prepare this, there should be a detailed consultation with the client about the various requirements regarding the lighting and appliances. The lighting layout and conduit layout are prepared based on the requirements using latest design software. Based on the lay out, do conduiting at the site during concreting and after the block work. Furthermore, all the conduit pipes should carry ISI marks. In the concrete, it should be of medium duty with 20-25 mm diameter where as in the block work it should be light duty with 20-25 mm diameter.
A distribution board (also known as panelboard, breaker panel, or electric panel) is a component of an electricity supply system that divides an electrical power into subsidiary circuits, while providing a protective fuse or circuit breaker for each circuit in a common enclosure.
Wiring
The Main Switch Board, the starting point in any electrical work, is to be located close to the main road.  The Distribution board (DB) has to be suitably located inside the building at an easily accessible location on the wall. Additionally, for ease of maintenance DB can be provided on each floor.
Wires and Cables have to be laid as per the Electricity Board/Electricity Inspectorate regulations. Air conditioners require higher gauge wires, 4 sq mm. For 5 ampere plugs and sockets it is best to use 1.5 sq mm wires.
All Wires, Cables, Conduits, End Boxes used in the wiring should carry ISI marks. While wiring or cable pulling,  ensure that there are no cuts or damages to the wires. In order to prevent current loss and short circuits, avoid joints in wiring.
Armored cable is a type of power-conducting cable that has a metal sheath covering. Armored cables generally finds its use for external applications like wiring outside the house. For ease of maintenance, enclose splits or joints if any in the external areas, in weatherproof boxes.
Safety
Safety is our utmost concern. A  circuit breaker (CB) is an automatically operated electrical switch. The purpose of a circuit breaker is to protect an electrical circuit from damage caused by excess current, typically resulting from an overload or short circuit. Its basic function is to interrupt current flow after a fault is detected. Unlike a fuse, which operates once and then must be replaced, a circuit breaker can be reset (either manually or automatically) to resume normal operation.
We use Earth–Leakage Circuit Breaker (ELCB), Residual Current Circuit Breaker (RCCB) and Miniature Circuit Breaker (MCB) to protect the electrical system from over currents and short circuits and minimize damages to the electrical accessories and appliances. Waterproof switches and lights for external use are necessary to cover the climatic conditions for house construction in Kerala. Make sure that you pull telephone and TV cables through separate conduits to avoid distortion or interference with power circuits. In short, proper earthing is to be provided for all switches, appliances and distribution boxes.
Lighting
Lighting plays a major role in aesthetics of modern homes. Good lighting facilitates you to perform tasks easily, brightens up the place, makes you feel safer and more comfortable, and allows you to enjoy your home at its full potential. Each room, however, has specific and unique general and accent lighting needs. The Interior designers and the client help in deciding the light points. Lighting software can simulate the lighting before actual implementation.
Maintenance
When it comes to house construction in Kerala, our team works hard to provide you with a safe and reliable electrical installation work for your house. Moreover, we ensure that our maintenance service is in accordance with relevant standards. We diagnose malfunctions, program and commission home and building automation systems and we take care of obtaining the necessary approvals from government bodies. Viya team also checks Earthing on regular basis as per Electricity Board norms.
Viya's Competence in House Construction in Kerala:
Viya Constructions enjoys an enviable reputation in the area of house construction in Kerala. We have a team of qualified and well experienced electrical engineers for providing the best possible solution in a cost effective manner, with a clear understanding of the varied needs of each customer. We specialize in design, development and implementation of electrical systems for various commercial, resorts, villas and apartment projects. Viya is committed to adding value to the services. We do so by exploring latest technological standards, adopting cost effective and energy efficient methods. We work in tandem with the client starting from the initial discussion until the project realization stage.
Additional Reading: How to evaluate construction companies in Kerala?
With computerized design office, competent technical staff and an efficient project management team consisting of experts across the spectrum, we deliver time bound projects with professional ease. Furthermore, we are ready to walk that extra mile and deliver beyond expectations to satisfy our client fully.

Viya Constructions, your trusted builder for house construction in Kerala, bridges the gap between the customer and technology. We promise to deliver the "HOME OF YOUR DREAMS".