Smart & Simple Interior Design Ideas 
More than your home's external appearance, the feeling it creates is what matters the most. If your home is cosy enough to lighten up your mood after a draining day, you need nothing more than that. This is where interior design ideas play a prominent role. In fact, it is these simple and smart ideas you adopt that are responsible for your home's personality.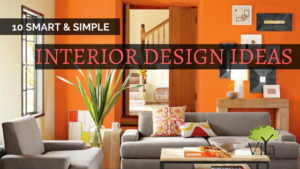 That said, before deciding on the interiors of your house, bring your family together and brainstorm for ideas. After all, it's your home and the interiors have a great role to play in enhancing or spoiling your moods.
Clever Colour Scheme
Of all the interior design ideas, colour scheme is the one that creates the utmost effect. Adding the right colour to your home brings life and creates a warmth which the boring colourless walls cannot attain. Using three or more colours to paint a room can also make it look bigger.
Giving a pattern or texture to one wall in each room creates a beautiful focus wall. This wall is usually adorned using beautiful paintings, framed photographs and other artifacts. Painting the ceiling with apt colours selected in accordance with the colour scheme and the lighting arrangements can also give the room a unique look.
Smart Storage Spaces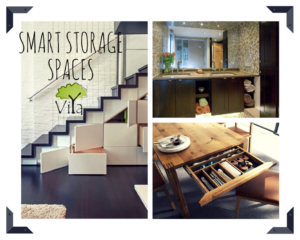 Lack of storage is a never-ending dilemma. A method to increase storage in bedrooms involves creating drawers at the lower part of the cot where one can store bed-sheets, quilts etc. It is also possible to make provisions for the storing books, alarms etc in the headboard of cots.
Increasing storage space in bathroom involves placing cupboards below washbasin to store towels, soaps etc. Fixing drawers at the lower part of center table in the living room creates a provision for storing newspaper and magazines.
Also, by fixing shelves and cupboards in the space below the staircase, it is possible to create a large storage area.
The Antiques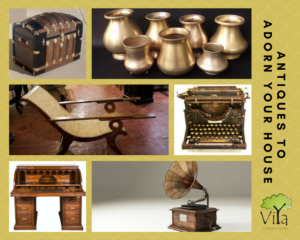 We often relate antiques to costly artifacts. But you could simply modify old goods and create the antique look.
Using a polished old wooden trunk instead of a normal center table in the living room is one example of such a modification. Painting old cycle wheels and fixing them on the focus wall can also deliver a unique look.
An old tailoring machine can be used as a fancy dressing table if the machine part is removed and required modifications are made. A grandpa's easy chair and an old gramaphone would definitely add to the elegance of your living room.
Wall-space Adornments
Wall space can serve both storage as well as decorative purposes.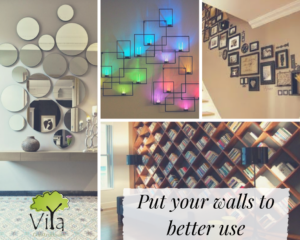 Placing shelves on the wall adjoining the staircase can transform this wall space into a beautiful bookshelf. Placing a mirror on the wall separating the living room and adjacent room can make the living room appear bigger. The drawers from old tables can be painted in beautiful colours and fixed on the wall as shelves. This increases storage space and also decorates the wall. The wall space can also be beautified by using paintings, framed photographs, antiques etc. Prayer room, library, storeroom can all be easily accommodated on the wall.
Photo Wall
Personalize your home by adding beautiful moments of your life into it. Create a wall that puts up a smile on your face every time you take a glimpse. Photo wall is amongst the most popular interior design ideas. You can either frame the selected photographs and fix them onto the selected wall in an appealing arrangement or you could adorn the selected wall with fairy lights and clip the unframed photographs onto it. This is a beautiful yet cost-effective wall decor.
Wall Stickers
Wallpapers are usually used to provide texture to the focus wall. But a better alternative to decorate the focus wall is wall sticker. A variety of beautiful wall stickers are presently available in the market. One major advantage of using wall stickers is that they can be removed without damaging the wall whenever required. Wall stickers are less costlier as compared to wallpapers but beautify the wall space to the same extent.

Vertical Garden
Interior design ideas are not only about making your home visually appealing but also about making life in it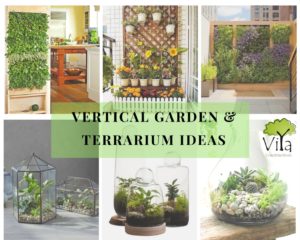 comfortable. Creating a vertical garden on one wall of the living room makes the room look beautiful. It also improves the air circulation at your home and adds freshness to the air. The greenery creates an optimistic mood and is quite healthy for the residents. While creating a vertical garden one should avoid the use of plants which may grow extensively throughout the space. Orchids, bromeliads and succulents are ideal plants to use in a vertical garden.
Terrarium: A Decorative Mini-Garden
Terrarium finds use if the accommodation of vertical garden is not possible. A terrarium is a decorative mini garden in a glass container that has the ability to add a small bit of outdoor beauty and peace to the inner space. They are easy to make and only require a few dwarf plants, soil, sand and pebbles. They are self-nourishing and hence require little maintenance.
Back to Nature for Garden furniture
Do you have leftovers log ends?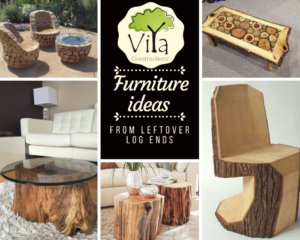 Get it polished and transform them into wonderful garden seats.
Add glass on top for an easy and elegant coffee table.
In a nutshell, here are some Smart and Simple interior design tips
Add the right colours to your rooms.  
Create a focus wall by giving a pattern or texture to one wall.
Match the colour of the ceiling with the lighting arrangements.
Create concealed storage space below the cots, in the headboards, inside bathrooms and under the staircases.
Create a photo wall to reminisce you about the good times.
Pull out your vintage stuff like your grandma's wooden trunk, your grandpa's typewriter or a gramaphone, give it a new look and display it.
Use wall space adornments like mirrors, paintings and other artworks to enhance the look of your rooms.
Consider the use of a vertical garden to bring a whiff of freshness to your home.
Create a terrarium with dwarf plants, soil and pebbles inside your room.
Use leftover log ends to create simple and elegant furniture.
While there are a variety of interior design ideas, it is important to find the perfect balance and select the ones that suit you the best. The interior design should not be too loud and distracting. It is also important to make sure that all ideas selected complement each other.
As interior design is responsible for adding character to your home, it is always recommended to put in some thoughts and efforts before you finalize your interiors.
So what are you waiting for? Go on and put in that element of class into your dream nest.