Stages of Building Construction
Are you over-awed by the process of construction of your house? Do you find the stages of building construction rather over bearing and difficult to comprehend? Not to be, as we would like to give you a simplified over view of the stages of building construction. This will reveal to you a panoramic view of building construction, all of which you  need to know!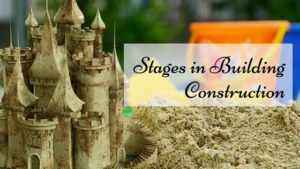 Here we break up the process of building construction into various stages for easy comprehension.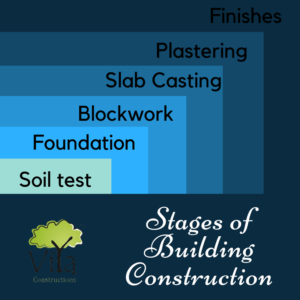 In brief, we can divide the process into 6 broad stages of building construction. They are :-
Assessing the soil strength and determine the necessity of piling
Foundation
Blockwork and joinery
Slab Casting
Plastering
All finishing works including electricals, plumbing, carpentry, tiling and painting.
Let us now look at each of these stages of building construction in detail.
Stage 1 : Soil strength and Piling
The first of the 6 stages of building construction is usually the assessment of the quality of the soil on which the building is to be constructed. Obviously, the primary necessity of structural design of your building is to ensure its longevity and safety. Soil tests are carried out by the experts to assess the strength of the soil at the depth to which your building foundation is proposed. Once the soil test report is ready, your structural engineer and architect can arrive at the type of foundation the building requires.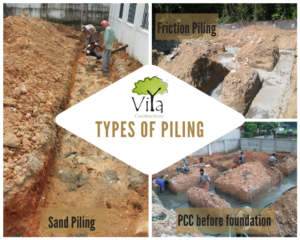 Know more: How to evaluate a floor plan?
Know More: Types of elevation for your house.
In cases of multi storeyed buildings and also where the soil strength is very poor, it is prudent to go in for 'piling'. You may have observed that sometimes even for G+1 buildings, piling is being adopted. The reason for this is purely due to the poor soil strength – like in sandy soil or soft clay. There are multiple ways in which piling is done; Sand Piling, Friction piling, DMC Piling  (Direct Mud Circulation) are the commonly used piling methods. Once the piling is completed, we are ready for the next stage, i.e, the foundation. Between the piling and foundation phase, a layer of PCC (Plain Cement Concrete) is done.
Know More: Piling in Building construction
Stage 2 : Foundation
In case your building does not call for piling, you are then immediately ready to start the foundation. Alternately, on completion of piling, you are set for the foundation stage. Foundations provide support for structures, transferring their load to layers of soil or rock that have sufficient bearing capacity and suitable settlement characteristics.
Like in real life, a good and strong foundation is a sound investment for a long and sturdy future! Your architect and engineer will no doubt design a suitable foundation to take care of the load requirements and soil quality. Your engineer will ensure that other influencing factors like soil settlement, seismic and local factors are considered during this design.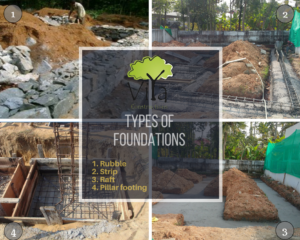 A standard 'rubble trench' foundation, is the most popular form of foundation due to usage of stones to minimise concrete and improve drainage properties. Raft foundation, is another type of foundation that is used when the the soil condition is weak. Due to this reason, this type of foundation uses more material and is more expensive than the rubble foundation.
Know More: Commonly used types of foundation
Stage 3 : Block work & Joinery
Construction of the walls with cement blocks/red bricks/laterite/ hollow blocks/AAC blocks or porotherm blocks is the next stage of construction. Walls are built upto 'lintel' level – top level of the doors and windows. At this level, a lintel concrete beam is usually cast across the building to take the load of the building and transfer it to the foundations. Lintel beams are usually built flush with the walls, without any protuberances and adds to structural stability of the building. This structure is called the 'load bearing' structure, where the walls built on top of the foundation takes the load of the building.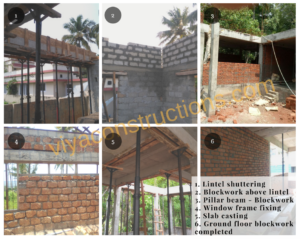 There is another type of structure called the 'Pillar Beam' structure, where the structure is built independent of the walls. In this method, several pillars are first cast on different corners of the building. Beams are then cast on top of the pillars. So here the structure is built independent of the walls and the load is completely borne by the pillars and the beams. This is called the pillar beam structure where the pillars and beams are cast independently and much in advance of the walls. The walls here and just an element of security and does not serve any structural stability purpose.
Alongside, in this stage, it is prudent to carry out the carpentry and joinery work, with a view to save construction time, though it can be done independently later.
Know More: Types of bricks used in building construction in Kerala
Stage 4 : Slab casting
Roof Slab casting is the next stage of building construction. This process includes the provision of shuttering (supports to hold the concrete when poured).  During this stage, a criss-cross framework of reinforcement steel is placed over the shuttering before the actual pouring of concrete is done. The steel is what provides holding support to the concrete, which in itself is a mixture of cement, river sand (or m- sand), blue metal, all in the right proportions and with special additives as required. The slab is allowed to 'cure' for a specified number of days to ensure its strength. In case of more floors, this process is repeated. After the curing period, walls of the first floor are raised and the above process is repeated.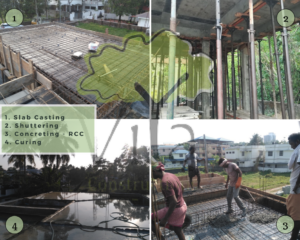 Depending on the design adopted, if the walls are not load bearing, then casting of ground floor slab can be done immediately after the main columns and beams are cast. The walls can thereafter be built once the floor slab is cured and the shuttering is removed. This can be repeated for higher floors also.
Know More: What is RCC in building construction?
Stage 5: Plastering
The shell and roof now being ready, we are now ready for the next stage of building construction – plastering. Covering of the wall with cement mortar and finishing the aesthetic aspects form bulk of this stage. Before taking up plastering work, it is recommended to proceed with the routing of the electrical cables and plumbing. Necessary cutting of the brickwork is also called for at this stage. It is therefore important to plan and decide the electricals and plumbing points well in advance of this stage to save time and effort.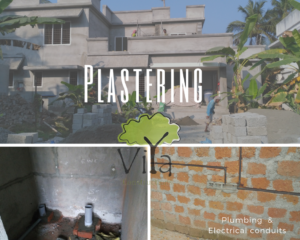 Electrical cables are drawn through conduits upto the switch control points.
Know More: All you need to know about electrical wiring in building construction
Know More: Plumbing considerations in building construction
Stage 6 : Finishing work
This brings us to the final stage of building construction viz Finishes. All the rest of the work like carpentry, tiling, plumbing and electrical fittings and painting comprise the finishing work. This can be done in any order as per the progress of work. Putty work for smooth finish of the walls, texture painting, waterproof painting etc can also be taken up now.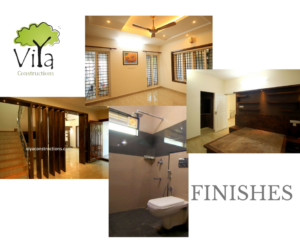 Know more: Key aspects in modern carpentry
Know More: Tips to consider while painting a wall
Minor works like provision of handrails, installation of sumps, tanks, drainage connections, solar panels, and electrical boards can be taken up at this stage. Once these works are completed, woodwork for cupboards, cabinets, designer elements and interiors and any aesthetics can be completed.
Know More: 5 must follow flooring tips
Now that your house is ready, it's time to make it a home – soft furnishings, furniture and those little things which define you and your lifestyle.
Know more: Interior design ideas to adorn your house
Hope this demystifies the seemingly complex process of house building to a large extent. If you would like to know more about any stages of building construction or would like to get a free consultation on any aspect of building construction, do not hesitate to reach out to us. The Viya team would be happy to help!

YOU MAY ALSO LIKE