What is Home Finishes or Finishing Services?
Seeing your house shaping up during each phase of construction is a great feeling! Be it foundation, structure work, concreting, flooring or painting – each progressive phase transforms it to something closer to be called a home. A house construction essentially consists of two phases – structure and home finishing.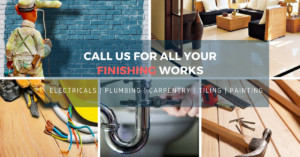 Structure is the stage of construction that erects the framework of the house. It basically comprises foundation, block work, RCC and plastering. Completion of structure work gives you a skeleton of your house. To make it to home, you have to do 'finishes'.
Home Finishing is the phase of construction done after structure work. It includes mainly electrical, plumbing, tiling, carpentry and painting works. Home finishing adds beauty, convenience and functionality to each aspect of the house.
TYPES OF FINISHING SERVICES WE OFFER
For example, electrical finishes involves wiring that ensures electricity supply to all electrical points on walls and roof. Fixing of switches, lights, fans and fancy lights follows this phase. The critical part in electrical finishes is adding optimum lighting and ventilation to a room according to its size and layout.
Similarly, plumbing finishes takes care of all water inlets and outlets. It gives you a fully functional kitchen and bathrooms. Tiling finishes helps in creating attractive and leveled floors..
Among home finishes, carpentry takes care of storage, convenience and security of your house via cupboards, doors and windows.  Painting gives a fine finishing to the walls making it appealing for the inhabitants.
In a nutshell, home finishes is what makes it truly a home that is ready to occupy!