Living Room Design Ideas
The living room undoubtedly bears the major focus of attention of any residence. Being the area which attracts most 'external' attention, the living room enjoys the pride of place in any residence. While that is justified, here are some pointers to help you in your living room design.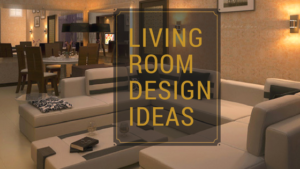 Importance of location in living room design
The living room is best located away from the access to other rooms in a residence to avoid disturbance. It is best to have direct access to the living room from the entrance so that guests are not privy to other rooms. A living room for guests should ideally be separate from space for family entertainment. The living room needs to be so located that activities there do not interfere with those of other residents.
Interiors and aesthetics in living room design
With guests being the major users, living room design should ensure that it is dressed at its best always. Décor and ambiance are the USP of any living room. Select your furniture keeping utility and comfort in mind. Traditional wooden (teak) furniture would be first choice with suitable upholstery. Coffee tables and corner tables need to be tucked away at convenient locations, without inconveniencing movement.
Heavy fabric drapery curtains add a feel of luxury to the ambiance, as well as privacy when required. Obviously your choice of drapery needs to match the colour scheme of your living room. Ensure use of sheer curtains alongside to allow natural light during daytime.
Wall to wall carpeting does add to the richness of the décor in the living room. But if you are living in places with high rainfall, this could turn out to be a dampener during the monsoon. It would be a good idea to ensure that these carpets are removable for storage during such times.
You may be interested in these design tips as well
A themed living room design is very much in vogue. Themes could range from ethnic to brassware, pottery to murals, antiques to avant-garde artefacts. Take care to avoid permanent fixtures to ensure possibility of changing your theme, if needed, without major rework.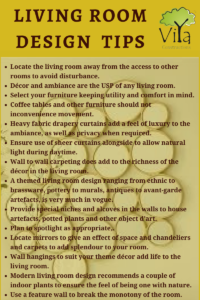 A good living room design provides special niches and alcoves in the walls to house artefacts, potted plants and other object d'art. Plan your spot lighting for these locations to enhance the visual effects. Lighting for the rest of the room should provide options for soft lighting for special occasions in addition to the regular bright lighting.
Locate mirrors to give an effect of space and chandeliers and carpets to add splendour to your room. Wall hangings to suit your theme décor add life to the living room. Modern living room design recommends a couple of indoor plants to ensure the feel of being one with nature.
A special trend in living room design is the 'feature wall'. These feature walls are stand out walls and meant to be different from the other walls. Feature walls are mostly painted in a different colour or with a bold wall paper to accentuate the difference. The intention of a feature wall is bring out an individualistic style to the room. It helps to break the monotony of the room, without being overtly garish.
If you are a party bird, do not forget to make space for a mini bar to stock up your essentials. This will ensure that you need not make frequent trips across the residence to refill your requirements. Also plan space for a music system including strategically placed speakers to add to the entertainment. Televisions are best avoided in the living room as they tend to distract attention from the conversation.
The quality time you spend on your living room design will pay you good dividends. Your living room will soon become the talk of the town!