A complete guide for Structure in Building Construction 
It is delightful to see a vacant plot transform into a beautiful home. Do you realize that it requires a good amount of building materials, hours of hard labor, and insights of experts to erect a building? And, a majority of this work is termed as Structure in Building Construction!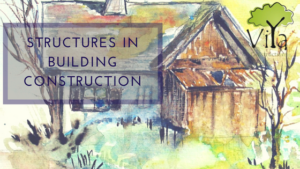 In this guide let us learn in detail about how a building is constructed in a vacant plot. We'll cover the following topics:
Definition & types of structure in building construction
The steps involved in creating the structure
Precautions while doing structures
What to do after structures?
What exactly is "Structure" in Building Construction?
Structure in building construction refers to the process of putting together different elements of construction, to serve a useful purpose. This method has to effectively support and transmit possible loads on the building to the ground. Due importance is given on each element (also called as structure member), so as to restrict the load stress within the permissible limits.
Depending on how the load is transferred to the ground, the structure can be broadly classified into the following categories:
Types of Structures
a. Load Bearing Structures:
A thick wall structure (mostly built with strong bricks or stones) carries the building load to the ground.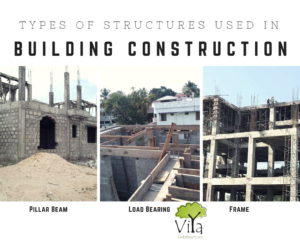 b. Frame Structures:
A frame structure stands on a strong framework – made of concrete beams, columns, and vertical slabs. The columns carry the weight of the building to the ground. The inside of the frame is further filled with block works.
c. Post and Lintel Structures (or pillar beam structure):
A post and lintel structure has two posts like vertical members, holding a horizontal member called lintel, to carry the building load. This is similar to the Frame structure and is predominantly used in high rises and apartments.
As the first step to structures, decide upon the type of structure to be adopted – load bearing, pillar beam or frame.
Next, let us see the different stages of assembling the structural elements in a building construction.
#1 Prerequisites for structure in building construction
Much before the actual building construction work commences, some basic site work is done. It includes:
Soil Testing – Assess the quality of soil and take proper measures to strengthen it.
Piling – In case of loose soil, strengthen it with reinforcements by Piling.
Develop Floor Plan -Get a floor plan to understand how the building looks from inside. It gives a fair idea about the layout of the rooms and amount of space available for each utility.
Foundation – Build a proper foundation to support and transfer the entire load from the building to soil.
Elevation – To get the vertical view of the building, draw an elevation plan. Typically, it is four elevation plans, one for each side of the building. This gives a detailed information about the location of exterior wall corners, position of windows and doors, finished floor and ceiling levels, and roof specifications.
Get even more insights about each of these topics here.
#2: Do Block-work
Block work pertains to erecting walls of the building. Choose from different types of blocks based on the structure type adopted for construction.  The common ones are bricks, concrete blocks, AAC, cement blocks, porotherm etc.
#3: Install door and window frames
 Install door and window frames along with progressing block work.
#4: Carry out Plumbing and Electrical works
Lay pipes and leave provisions for water usage and drainage as plumbing basics. Also, install electrical conduits and pipes for sealed wiring catering to electrical needs. These also happen along with the block work.
#5: Cast Lintel
A lintel is a concrete beam above window and door frames. It offers support to the wall over doors, windows or any other opening.
#6: Slab casting, Shuttering, and Concreting
Mark slab requirement in places like the kitchen. Provide support to hold concrete when poured, using shuttering. Lay criss-cross steel reinforcements (RCC) over the shuttering to strengthen concrete. Pour concrete mix over this and allow it to set evenly. Ensure strength of concrete by treating it with water through a process called curing.
The process of casting concrete roof is also similar. In case of a thatched roof, work on the slope of the roof and install roofing materials. Also make sure the joints are sealed properly to avoid leakage in future.
#7: Do Plastering
Cover walls with cement and sand mixture for aesthetic appeal called plastering. Prior to this, efficiently route electrical wires and plumbing channels to avoid rework.
Click here for a detailed read on all the above mentioned stages of construction.
Well, that sums up the essentials of structure work in building construction. There are a few tips to consider while doing the structures.
What should you take care of while doing the structure?
Understand that construction of a building is a collaborative effort. Many a thing go hand in hand with structures. To avoid unnecessary delays, plan everything in advance.
Firstly, never miss any of the processes in structure, be it soil testing or piling. It may seem a bit unnecessary to go through each and every process, but it will prove worthwhile in future. For example, you may not be able to assess the quality of the soil merely by looking at the soil type. This calls for a detailed soil testing. Only based on the soil test report, can you decide on the need for piling and the type of foundation to be used.
Discuss every requirement and choices with the architect before floor plan is finalized. This ensures smooth structure operations.
Visualize your life in your new home before finalizing on the floor plan. Think of where you would be having your morning tea, where you would be entertaining your guests, where your children would be doing their homework or where you would be spending some undisturbed time with yourself.
Wherever there is a choice in building material, do a thorough research beforehand. Finalize it within the stipulated time after taking advice from the engineer. This gives the contractor ample time to be ready with the materials. This holds extremely true for door and window frames, as well as roofing materials.
Cost is an important factor while deciding on building materials, but keep in mind that cheapest is not always the best. For example, never compromise in the case of electrical wiring or concrete to cement ratio. Always go for the recommended options even at a cost of a few extra rupees. Know more about the pitfalls of always going for the cheapest materials.
From a utility perspective, have a clear picture on your requirements with respect to plumbing and electric works. Pass on these inputs to the teams concerned before the start of their work.
It is a common misconception that interiors are to be done after the structure is completed. You should have a clear picture of the interiors at the same time as conceptualizing the structure. This will help you make a few structural modifications to enhance the utility of the completed home.
When in doubt, trust the building company's advice. They are definitely more experienced than you are and will recommend only the best for you.
What follows "Structures" in building construction?
It is true that completion of structures gives a real feel of the building. However, to add life and utility to it, the next phase of construction has to take place, viz Finishes. You can read about finishes and steps involved in it here.
For any further details, or for a FREE quote, please feel free to contact us.

Furthermore, if you found this article informational, please do share it and bookmark this guide on structures for a quick reference.