Who is a Turnkey Service Provider?
A turnkey service is one in which the the provider owns and completes the entire project and hands over the finished "Ready to Use" product to the customer or end user. In other words the customer is handed over the key and just needs to turn the ignition key to make the product operational.
In the construction parlance, a turnkey service provider is one who takes complete ownership of all aspects of building construction from soil testing to determining the type of foundation to doing the structure to the finishes. A turnkey construction contractor also does the interior design of the completed building. In addition, additional utility works also comes under the purview of a good turnkey construction contractor. For instance, fitting of solar panels, implementation of a good waste management system, setting up mosquito nets, gardening  etc.
Have a look at all the services that we offer as part of our turnkey construction model.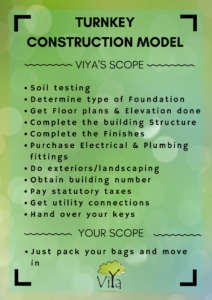 About Viya: Leading turnkey construction contractor in Kochi
Viya Constructions is a leading turnkey construction contractor in Kochi, with several years of experience in the field. You can engage Viya either as a turnkey building construction services provider; where we fully design, construct and hand over your "Ready to Occupy" home OR as a construction contractor who would perform specific pieces of work like civil construction, electricals, plumbing, tiling etc.
In either case, the aim of the company is to deliver high quality buildings to suit their patron's needs.  To enable this, we have a team of experienced professionals skilled in Architecture, Civil Construction and Project Management; from top class Engineering and Management institutions in the country.
What's so special about the Viya Turnkey services? Read more 
Click here to know more about our team.
Also do read our blog on varied topics related to house construction in Kerala.
If you would like to engage us for any of your house construction needs in Kerala, please do not hesitate to call or message us. Together let us build your dream home.