A Complete Guide on Home Automation in Kerala
Gone are the days when smart homes existed only in fictional sci-fi movies. The things which seemed unreal in the past are turning very much possible nowadays, thanks to home automation. Having your morning coffee brewing in the coffee machine before you get out of the bed, getting your vacuum cleaner clean up the house every day all by itself, controlling your automatic home security system from anywhere in the world are much happening things these days.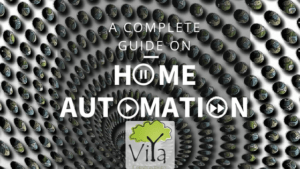 Home automation is all about making life easy. Whether you are at home or miles away from home, automation helps you to control the functions of different electric and electronic appliances in the house using your smart phone, tablet or computer. This could range from lighting, ventilation, security and air conditioning, to controlling other home appliances like washing machine, refrigerators as well!
What all can be automated?
Automation essentially is the ability to program and schedule events for the different devices at home like:
Home Security system
Security automation involves majorly 3 vulnerable points such as – the main gate, doors and windows.  Automatic opening, closing and locking of these (controlled remotely or at scheduled times) can protect the home from security breaches. It also means that you can open the doors to your friend, even when you are not in town. Enhanced with live video surveillance, you can monitor any possible intrusions.
Home automation empowers the house to take action against any unusual activity. For example, in case of an intrusion into the premises, alarm can be triggered, followed by auto dialing the police and switching on entire lights in the home, making it difficult for the intruder to escape.
Security automation system available in Kerala ranges from video door phones, Intrusion Alarm, CCTV and Camera. To prevent any form of possible intrusion within the house, security automation employs beam sensors, motion sensors, and magnetic sensors (for cupboards) and ventilators.
Automation coupled with usage of sensors like gas leak sensors, glass break sensors and smoke sensors are widely installed in Kerala to protect the house from unforeseen events.  In case of fire, automation system can trigger sprinklers to put off the fire.
Lighting Solutions
Lighting controls gives you the freedom to adjust the home lighting according to your mood. You can switch off or on all the lights together, room by room or areas of your preference in the house. Integrated with sensors, dimmers and timers, every room reflects the perfect lighting at any time of the day with automation.
Automating lighting solutions enables to adjust the lights based on your  set preferences as well as external factors. For example, the you can schedule the portico lights to switch on at 6 pm every day. By integrating with solar time, the outdoor lighting can switch on/off on its own during sunrise/sunset.
Incorporating automatic dimming or switching-on of indoor lights depending on the day light availability is called daylight harvesting. With the help of occupancy sensors, the lights in a room can turn on or off as per requirement. Likewise, you can program lamps to light up in case of any emergency (like a security breach) or special situations (like a midnight birthday surprise!).
Air Conditioning and Ventilation
A comfortable stay indoors demand optimum temperature and fresh air. The external weather conditions and occupancy of the room are a few factors influencing the indoor temperature. A home automation mechanism using a thermostat can read the room temperature and adjust the cooling accordingly. (Nest Thermostats are creating a wave in the Western world by offering automated temperature control in all seasons, saving huge money for households!)
Automation of windows help to adjust the day light entry by controlling the curtains. Controlled opening and closing of the window panes can help achieve optimum ventilation. Automation gives you the extra privacy by moving the blinds using your smart phone or tablet.
Home appliances
Various home appliances like TV, fridge, washing machine etc can be interconnected and remotely controlled (using internet, called as Internet of Things or IoT). For example, you can control your TV on/off remotely using your mobile phone, ensuring restricted TV time for kids.
Sitting in the couch you can play your favorite movie, adjust the speakers, dim the lights and enjoy the movie with a theatrical effect. Automation can converge your multiple remotes of TV, surround sound systems, DVD players, Digital TV, Gaming consoles etc into one.
Likewise, you can program washing machines, air purifiers, dish waters etc to switch on at preferred time. Moreover, you  can also implement customized automation solution for different needs of your house. Say, if you have a pet, you can automate it's feeder. The service door can be opened for it at regular intervals to make your life convenient. You can even turn on water sprinklers to water your gardens at regular intervals.
All these could happen immaterial of your presence at home; that is the beauty of Home Automation!  So how to start with automation of your home?
How to do Home Automation in Kerala?
To start with, choose an aspect of the house that needs automation. Say security automation or lighting automation, depending on your preference.
Next you need a controller that can communicate with you as well as the different devices present in your home. This can be a dedicated smart home hub that interacts with a few specific devices (GadgeOn provides good number of hubs to choose from). Or it can be universal controllers like Google Home and Amazon Echo, that can cater to an increasing list of devices. You can also use a dedicated software platform like Apple's Home Kit.
Most of them can receive voice command (through Alexa, Siri and the likes) making the automation really comfortable. The devices and controller communicate with each other using wireless protocols like Bluetooth, Wifi, Z-wave, Zigbee etc to execute the automation.
Though it comes with a variety of benefits, home automation in Kerala surely has its own setbacks.  For example, the Cost of Automation is high as it includes the cost of additional hardware, sensors, installation, service and maintenance cost .
Pros and Cons of Home Automation
Home automation is really a bliss because: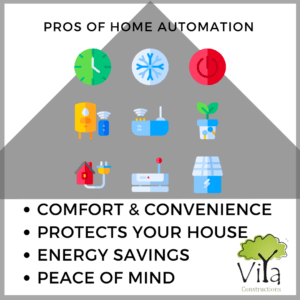 Provides Comfort and Convenience – Home automation adds convenience to life. Automatic opening of service door during grocery delivery and getting updates when kids are back from school can really give peace of mind when you are at work.
Protects the house – The security features and triggering the alarms can really protect house from intrusion and mishaps.
Reduce energy consumption and wastage – By ensuring only required appliances are on at any given point of time, energy consumption is minimum. This helps your home to comply with green building standards of Kerala.
 Having said so, home Automation falls short of the following:
Home Automation is expensive – Setting up home automation requires specific hardware, sensors and equipment. It may not be possible to automate with existing home appliances as it requires specific smart appliances that can provide a communication pathway to the remote controller.

System incompatibility – Different home appliances are usually from different companies and hence not mutually compatible either. For example, Air conditioner can be of one company and Flat screen TV can be from another. Custom programming to provide connecting solutions can be often difficult and time consuming.
Less Reliable Connecting Solutions–  The home automation is still in a nascent stage and most of the solution uses third party software and devices. The reliability of these are still under scrutiny.
Prone to hacking – Home automation till now has no global industry standards. Since it works on open communication methods like Wifi, Ethernet etc, it is vulnerable to hacking.
Complex installation technology – It surely make life simple. But installation is a complex process and the technology is not easy comprehensible to a common man.
Learning Curve is huge – Learning how to operate all the features of automation takes time.
Human Errors – In case of automated homes, a small human error can trigger a bigger impact for the house.
Home Automation is surely the best way to enhance and enrich life. However, automating your entire home can be an expensive as well as time consuming affair. Analyse and prioritize the home automation solutions for your family and go for it one by one. To get an in depth understanding of possible home automation products available in Kerala, call Viya.