Tips to reduce construction cost in Kerala
Constructing a new home, with all the modern amenities that you hoped for may turn out to be a daunting task, especially considering the rate at which construction cost in Kerala is rising.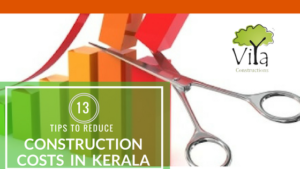 However, attention towards certain aspects will definitely allow you to achieve your dream in a cost effective manner. Here are a few of them that would help to build your dream home without being overdrawn.
The Right Construction Plot
Selection of the right plot is one of the prime factors that affect the construction cost in Kerala. You should choose the plot in such a way that it is at level with the road. Choosing a plot with no proper road facilities could cost you a fortune and increase the total construction cost by at least 15%.
Read More: How to choose the ideal plot for construction?
A  Simple yet  Suitable Design
Simplicity is the ultimate sophistication. A simple design in a square or rectangular layout which caters to the requirements is preferred as it costs less. A design with high front elevation and the use of structural elements for beautification, could sure burn a hole in your pocket.
Read More: All about elevation
A Smart Technology
With new technologies coming up every day, the construction cost in Kerala is witnessing variations. Adopt a smart technology which is  economic. Modern construction techniques have a higher edge when it comes to achieving a greater percentage of accuracy.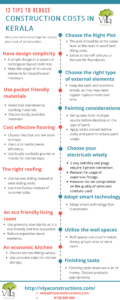 Pocket Friendly Building Materials
Ensure that you select low maintenance building materials for the construction. Also discuss the local availability of materials with your contractor and evaluate if they are pocket friendly before you arrive at a final decision.
Get the Walls Upright
Another effective technique that can be employed to reduce the construction cost in Kerala is the selection of a simple design while constructing walls.  Take ample time to choose the right materials for your home's outdoor initiatives. This will help to reduce future frustrations about the money spent on it as  outdoor initiatives usually require repetitive replacements over time.
Cost Effective Flooring Techniques
The most expensive segment of construction cost in Kerala is the flooring. If you desire to cut down this major expense, it is advisable to purchase tiles which remains at low stock in shops, use cut or waste pieces of tiles in the step riser, use cement mosaic for the kitchen platform, and locally available granite for the staircase steps.  Choosing the right material contributes to reduction of the construction cost. A better way to ensure the proper purchase of materials is to consult a specialized flooring contractor.
A Perfect Approach to Painting
Most people are unaware about the loss of money that occurs while painting. The actual cost of painting depends on a variety of factors. If you desire to hire a painter, make it a point to get quotations from different painters so that you are well aware of the available options. You must also have a general estimate of the total cost before the painting begins. Applying white cement before putty and paint will assist in reducing the quantity of paint used and hence the cost.
The Right Roofing
It is recommended to use narrow sliding instead of wide sliding and iron frames instead of concrete slabs as it helps reduce the cost. When investing on a new roof, do not be hesitant to pose queries to your roofing contractor. In case your roofing contractor is reluctant to clarify your concerns, it is suggested that you replace him with a better professional.

Apt Electrical and Ready Made Fittings
In case of electrical fittings, reduce the use of 2-way switch and plug point as it results in requirement of a 3 phase connection. Also, reduce the use of expensive electrical fittings and opt for alternatives like PVC conduits which are relatively cheap.
Use of ready made fittings such as doors, windows etc saves time and also reduces labor and cost.
An Eco-Friendly Living Room
Having a living room upstairs is presently considered old fashioned and it is usually only constructed downstairs. The most elegant way to set up the living space is by utilizing greenery which is beautiful and cost effective at the same time. It also eliminates the requirement of expensive decor elements.
Wall Space – A Make Shift Room
Make provisions for maximum utilization of wall space. Try to accommodate the prayer room, library, store room etc on the wall. One example of utilization of wall space is replacing a book case by a book shelf fitted onto the wall. You can also decrease the space taken up by the wash area by placing the wash basin in the common bathroom instead. Another effective and easy way to reduce construction cost in Kerala is to omit terrace in front area.
An Economic Kitchen
Another expensive component of construction cost in Kerala is the kitchen and work area. Built in fittings for kitchen available in the market are quite expensive. Kitchen cupboards drain out an alarmingly high price of about 3-4 lakhs. Use of concrete slabs and ferro-cement instead will help to decrease this cost.
Read More: Kitchen Designs
Finish the Finishing Tasks
The most unwanted expense occurs at the time of finishing. Plastering, finishing flooring and wood trimming are some of the finishing tasks. Resorting to these tasks as early as possible will help in reducing the cost involved.

Certain choices to be made through the course of construction of your dream home could leave you puzzled. Do not ignore the little things in the chaos and confusion. The minute details are always vital in ensuring that you do not burn a hole in your pocket while construction. Being a little cautious and a little aware could completely transform the path towards your dream home!