Contemporary Door Designs to make your home unique
Designer doors are becoming a hot cake over time. Here is information on the different contemporary styles of door designs.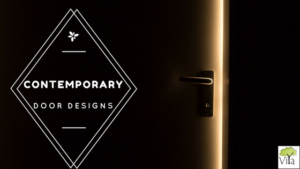 Tips on door design selection and the uses:
Size
Doors come in different materials and finishes. The size of the doors depends on its purpose and where it is installed. It is important to choose the right-sized doors to enhance the interiors of your personal space –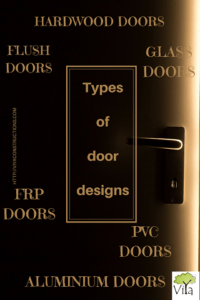 your home. While making a choice of doors, think about its purpose and choose the right door to match your style and range. When you go for a pre-finished door, you may have to augment the aesthetics of the door further.
Design

A creatively designed door can transform the look and feel of a home. From a welcoming exterior door to a tempting interior door, you have designs galore. You are remembered by a beautiful front door or an artistic interior door as it talks volumes about your life and personality. The construction market space has plenty of door designs to offer giving you a chance to opt from normal doors to futuristic designs.
Trendy textured internal doors
Style shares equal significance with utility while constructing houses nowadays. As designer commodities reign the world, designer doors also flash its presence in our personal living spaces.  The hot favorite of the times is the trendy, textured internal doors which are well accepted for their aesthetic beauty. Tough and reliable, these doors come in a spectrum of styles – from paneled ones to glazed options.
Painted doors: Light and dark grey internal doors
Want to add a graphic element to your interiors to go in unison with the white walls? Go for the light and dark grey painted doors. They stand out from the crowd of loud door designs with great artistic work. These doors give you peace of mind and make you a shade bolder with its colour tones.
Different types of door designs:
A durable hardwood door enhances the appeal of any home space.  They are more suited for external doors. The external hardwood doors are made with sturdy materials to make them face any outdoor climatic conditions. You get a multitude of hardwood doors with diverse styles and finishes to match your individual tastes. The rate starts from Rs.180/ square feet.
Flush doors are available in an assortment of sizes and designs. Made with innovative technology, these doors are normally chosen for their strength and rigidity, fire resistance, water resistance etc. The flush doors are excellent as external doors and kitchen doors. The rate starts from: Rs.78/ square feet.
If you have no time to tend to doors, PVC doors become the best choice for you. They are suitable for bathrooms and less important rooms of modern dwellings as they require minimal maintenance.  The rate starts from Rs.100/square feet.
Glass adds a splash of romance to your interiors. If you have a sliding glass door that opens to the outdoors, you get pampered by the refreshing breeze and pleasant sunlight. The glass doors are easy to install and are available in different finishes ranging from clear or sandblasted finish along with sliding to hinge models. Made of laminated safety glass or toughened glass, they come as resin panels, decorative glass and textured glass. The rate starts from Rs. 300/square feet.
When looking for creative doors, a metal door may not be the first thing that comes to your mind. But, they are sturdy and can withstand tough exterior elements. Being versatile and reliable door options, they are slowly showing their presence among residential commodities. A metal door will surely be a one-time investment for you. The rate starts from Rs. 320/square feet.
 Aluminium door designs can use used in a range of combinations as they are lightweight but strong. This is a good option for both interior and exterior uses. They are comparatively durable and require low maintenance.
Fiberglass Reinforced Polyester (FRP) doors are aimed at exterior installations as they are meant for rough use. They are ideal for schools, hotels or any public facility. These days, FRP Doors are gaining popularity in homes also as external doors as they are waterproof and weatherproof and have a long life. The rate starts from Rs.155/square feet.
Viya Constructions help you choose the best door designs
Viya Constructions tops the list with its leading edge interior styles and door designs. A pioneer in the construction segment in Kerala, Viya Constructions build not just villa projects, residential buildings, holiday homes, twin houses and apartments, but chase your dreams and materialize it. Engineered with expert in-house architects and civil engineers, Viya Constructions is well equipped to make your "dream' come true and decorate the interiors with the proper roofing, flooring and installing innovative door designs.

With expertise and experience, Viya Constructions give you proper assistance in the choice of doors for your home. The team of interior virtuoso makes the thinking for you and helps make your interiors a reflection of your style by the right selection of door designs.