Latest Trends in False Ceiling Designs
A false ceiling, also known as dropped ceiling, or suspended ceiling has become a symbol of modernity and sophistication. It is a secondary ceiling suspended below the main ceiling of the room. In this piece of writing, we look at some of the trends in false ceiling designs, the benefits offered, materials used in false ceiling designs etc.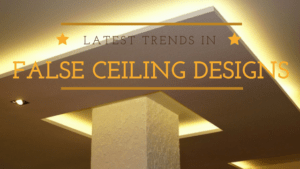 Nowadays, people are well aware of the importance of a ceiling to complete the look and feel of the space. A false ceiling hides the duct work, pipes, electrical works, beams giving the ceiling a beautiful, clutter free and neat look. Along with planned lighting designs, false ceiling enhances the beauty of any built up space many folds.
False Ceiling, Real Benefits
A false ceiling can prove to be energy efficient as it reduces the electricity bills due to more efficient air conditioning as it effectively reduces ceiling height. Indirect lighting in the form of LEDs can be efficiently used to light up space.  It also plays an important role in the acoustics and sound absorption. False ceilings may not necessarily be done from wall to wall. Beautiful design patterns can be used instead.
Lighting up the Ceiling
When you need to light up a room without the fixtures actually been seen, what you need is to build a false ceiling and install recessed lights. As the name suggests, recessed lights are those which are built into the false ceiling of a room. Recessed lights can provide both direct and indirect lighting depending on how it is installed. Recessed lights are ideal for low ceiling areas.
Cove lights are indirect lights installed/fixed in the false ceilings to create an aesthetic feel particularly to highlight decorative ceilings. Led strips are most commonly used for cove lighting. These lights are not seen directly, they get hidden in the false ceiling.
Types of False Ceiling based on materials used
Gypsum False Ceiling:
Gypsum False Ceiling is used for internal ceiling applications. This type of false ceilings is lightweight, sound insulated, fire resistant, soft and thermally insulated.  It is available in variable thickness and sizes as well.
Gypsum boards can be cut into any desired shape and hung below the main ceiling with the help of an iron framework. The finishing work on these boards like paints, laminates, wallpapers and texture finish gives good look. Gypsum boards cannot withstand humid conditions without having a suitable coating on all sides of the board.
Fiber Cement Board
Fiber false ceiling is in high demand for the construction of external false ceiling due to low cost and easy installation. These mineral fiber boards and tiles are available in various shapes, sizes and patterns. Ease of installation and low cost make them highly in-demand materials. Installation of fiber cement board siding is costly. Labor costs are higher because fiber cement requires more manpower to deliver and install.
Ready-made Decorative Ceiling Panel
Ideal for office, home, restaurant, or other retail space, decorative ceiling tiles are an affordable and easy-to-use option for any space. Available in a variety of colors, styles, shapes, and sizes that look just like authentic antique ceiling tiles, decorative tiles will make your space look elegant, stylish, and beautiful.
PVC Panel
PVC Ceiling Panels are waterproof and very easy to clean and maintain, which makes them ideal for wet room areas like bathrooms, toilets, kitchens, basements, garages and all other living areas. They are ideal for damp and moist areas to decorate the ceiling effectively and completely waterproof. However, one of the disadvantages of PVC Panel is that longitudinal seams are visible even in the so-called seamless panels.
Calcium Silicate Board
These are special purpose boards, manufactured from calcium silicate. They can enhance the elegance of ceilings by their unique pattern and eye catching design.. These tiles impart an exquisite appearance to the building interiors along with the functional benefit of noise reduction. The main advantage is that these are extremely fire resistant. In case of fire, board will not burn and give off toxic smoke.
Mind the Roof over Your Head
The safety issue has to be addressed by using better materials and employing trained manpower to fix the ceiling. Difficulty to clean the area between the roof and the false ceiling is a major concern in residential buildings. One of the major disadvantages of false ceiling is that it can reduce the height of a room by several inches as it is hung below the existing ceiling.
Unique False Ceiling Designs
Viya Constructions,  a leading civil contractor in Kochi specializes in the constructions of residential buildings, villas, individual bungalows, and houses. We are a trusted name in this field with many successful projects to our credit. We design floor plans to cater to your life style while creating a home that is one-of-a-kind and unique to you. Our talented interior designers build and execute home interiors to perfection, from fabulous false ceilings, glamorous kitchen, stunning wardrobes to luxurious sofas. Our team of craftsmen and supervisors transform dreams into reality.
Viya's interior design team specializes in innovative and unique false ceiling designs and installations that perfectly match the indoor settings. We design false ceilings precisely and develop them from top quality components sourced from reliable vendors in the industry. Our false ceiling products stand out for their uniqueness and designer appearance. We offer them at market leading rates.
Contact us NOW!! We will help you build the home of your dreams