Your dream house design – Don't ignore these tips
It is a fact that most of us build a house only once in our lifetimes. We put in our heart and soul and our hard earned money into it, with the intention of transforming the blocks of bricks and mortar into the home of our dreams. But, since our generation is so used to the "Undo" button, we tend to expect the same in all aspects of our lives. However, unfortunately we do not have an option of FREE UNDO when it comes to house construction. So it only makes perfect sense to get our house right, the very first time. There comes the importance of a perfect house design.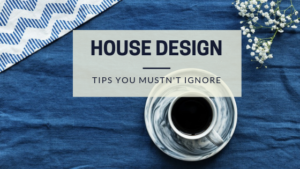 Let's look at some important parameters to consider while designing a house.
1. Care for the soul:
Every house has a soul. A soul that is unique to the house. A soul that binds together the family that resides there. It is mostly determined by factors that are often most ignored, like abundant sunshine, direction of wind and rainfall, the amount of greenery available, eco-friendliness of the house and how well the house intertwines with the nature around. These things bring about an internal beauty to the house which goes a long way in refreshing the moods of the residents and keeping them joyful.
2. Weather appropriate?:
The design of the house should be suit the weather of the region. For example, a house design for a belt expecting heavy rainfall should have additional elements to take care of the rainwater etc. Read more about rainwater harvesting.
3. Design for the plot:
The house should fit into the plot where it is proposed to be built. A design suited for a rectangular or square plot may not be appropriate for an odd shaped plot. Get tips on how to choose the ideal plot for house construction.
4. Living comfort:
The house should suit the preferences of the family for which it is built. Design it in such a way that the likes and preferences of each individual is taken into consideration. This is very important that the home provides comfort to and is always welcoming after a long day's hard work.
You may be interested in these design tips as well
5. Zero wastage:
While designing a house, you must also have a high level idea of the amount of resources needed. You may get help from your architect or construction contractor for this. This will help to reduce wastage of building materials and therefore be pocket friendly. Read more on building materials.
6. Multi-utility spaces:
Keep a tab on the budget while creating the house design. Try to make effective use of the available space, by creating multipurpose living spaces. This will also help to keep the house compact and not spread over the entire plot. A good designer or architect should be able to help you in this regard.
7. Go energy-wise:
Make use of energy saving materials. Though this may turn out to be a bit expensive during construction, in the longer run it will end up saving huge amounts of money from your monthly bills. Read more on energy efficient construction.
8. Go local:
Finally, look around to see multiple options of locally made fittings, tiles and woodwork. It will give your home a ethnic look and will work out much cheaper than imported stuff.