Paving Stones For Your Picture Perfect Garden
When it comes to landscaping all we can think of is "Green". In fact, when gardeners take up a landscaping project, more often than not, plants are their only point of concern. Amidst the puzzling choice of apt flowers and grass, we often dismiss off elements like landscaping stones. To most of us, landscaping stones and paving stones are a relatively unimportant element. However,  without these landscaping stones, your garden would be nothing but a boring green space.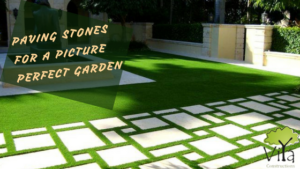 Even though we do not realize, landscaping stones and paving stones are responsible for the charm and elegance of any landscape. It is the element that adds character, structure, and class to an outdoor space. Irrespective of your home's architecture, be it modern, traditional or otherwise, these stones open up a world of possibilities, especially in the design aspect.
What are Paving stones? 
Paving stones or landscaping stones are stones that find use in building flat surfaces which are easily accessible. They find extensive use in walkways, driveways, patios and pool decks. These stones are also popularly known as stone pavers and are usually available in squares or rectangles. In comparison with their alternatives, these landscaping stones are more durable, environmentally friendly, water-resistant and quite versatile. Their flexibility allows numerous variations in design and their relatively lower cost promise a budget-friendly curb appeal.
Paving stones are quite pleasing in the aesthetic sense. Unlike concrete, most of  these landscaping stones have a natural color and texture and hence, they adorn the space in a manner that closely co-ordinates with the greenery. These landscaping stones are available in a number of sizes, colors, shapes, and textures and hence offer the flexibility of installation in different patterns. Thus, they provide many options for your landscape design.  In addition, paving stones are easy to replace and demand very low maintenance.
Uses of paving stones in landscaping
Owing to their versatile aesthetic appeal, paving stones are widely in use in both commercial as well as residential landscapes. Their flexibility allows customization and a wide variety of applications. Here are a few popular applications.
Patios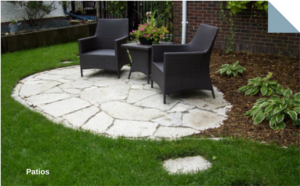 These are outdoor spaces where one can unwind after a tiring day and enjoy the beauty of the landscape in comfort.
Patios built using pavers have the advantage of flexibility in terms of design. For example, one could build stone benches in a particular space which are either chic and formal or fun and informal.
Edging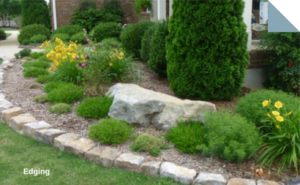 If not structured well, even the most beautiful elements will not help your landscape. It would simply be an uninteresting yard where most elements appear disjoint. This is where stone pavers play a vital role.
It allows you to highlight any element and elegantly segregate it from the others. Stone edging formally demarcates the entire landscape while also aesthetically enhancing it.
Walkways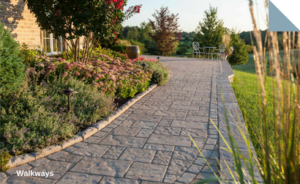 Stone pavers make terrific walkways. Owing to their durability and water resistance, stone pavers are the perfect choice for high traffic walkways.
In addition, the versatility in terms of colour, texture, sizes, and patterns allow you to express your creativity in the space.
Stepping stones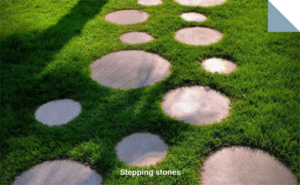 Stepping stones are not very different from walkways in function. However, stepping stones require larger stone pavers than walkways. But, these are often less costly than wide walkway paver stones.
Driveways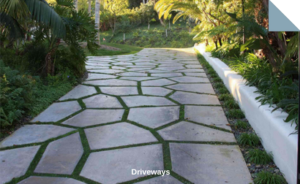 The driveway is often thought of as a necessary but bland surface. It is often an area that makes your outdoors look incomplete.
However, with the use of pavers, you can easily transform this space into an artfully designed surface. It not only enhances your home's appeal but also promises a permanent leave from unsightly cracks and other maintenance issues of concrete.
Vertical Paving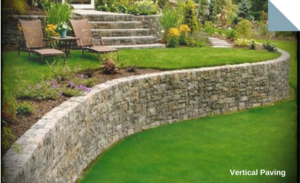 Another use of stone pavers is vertical paving. Vertical paving helps to demarcate specific areas and set up little fences. They are also laid on the slopes in the landscape.
In addition, these landscaping stones may be used to enhance the aesthetic appeal of the landscape in combination with water bodies like ponds or to create shapes with grass and flowering plants.
Types of Paving stones
Before deciding on the elements you would like to adopt, it is important to determine which type of stone suits your requirements in the best possible manner. Stone pavers mainly belong to two broad categories: manufactured and natural pavers.
Among manufactured pavers are
Concrete – Concrete is among the landscaping stones that are quite versatile and durable. They are made of aggregate, cement and water.
Brick – Brick is incredibly strong and is known for its trademark classy look. Also, they are quite durable.
Recycled Rubber – This material is obtained from recycling old tyres and are quite advantageous as they are non-slip and require little maintenance.
On the other hand, natural stone pavers have the capability of providing a natural feel to the place. Natural stone pavers include
Flagstone – Cutting from stone quarry provides flagstone. Flagstone is popular in landscaping as they do not absorb heat, keep cool and are quite durable and safe.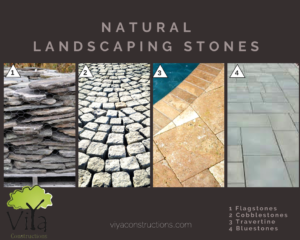 Cobblestone – This type of stone gives a vintage feel to your home. It is possible to lay them either in a straight and flat in line uniform fashion or in circular shapes which confer a creative look to the place.
Travertine – This is a form of limestone. They have distinct pitted holes and troughs which help in conferring a unique look to the place. Also, certain  specific finishes guarantee a high level of durability.
Bluestone – This stone is particularly popular for it bluish gray hue. It consists of natural elements such as sand and various other particles. Bluestone pavers find extensive use in pool coping.
Other popular landscaping stones are Random rubbles, Laterite, Terracotta stones, Tandur stones, Shahabad stones, Kota stones and Kadappa stones. 
How should you choose paving or landscaping stones?
It is quite evident that when it comes to selecting stone pavers, the options and possibilities are numerous. However, there are certain practical considerations that must be noted before arriving at a final decision.
Remember that design is the key element when paving your landscape.
Ensure that all the elements you plan to blend in allow a smooth transition from indoors to outdoors.
Planning for drainage is another indispensable aspect.
Ensure that the level of your landscape is such that it faces an area that can handle additional moisture.
Avoid the use of polished stones which may be slick when wet.
Also, when choosing a natural stone, ensure that it fits in with the climatic condition of your area.
Another important aspect is to assure that the installation is carried out by professionals so that safety and durability are guaranteed.
It is always the little details that make a huge difference. So, make sure that much thought is put into all aspects irrespective of it being major or minor.
Realize your picture perfect garden with Viya Constructions! Give us a call now for a free quote.